Friday, July 30, 2010
6:00 AM |
Posted by Cara
|
Edit Post
No grumblings today. Although it's been one of those weeks...I unconsciously decided to look for the positive around me...
~Stuck and the RR crossing in town. Noticed a young pregnant mom holding a small child waiting on the train platform and it was a beautiful evening. Pink sun was starting to set and it was not humid any more. Train stopped; door opened...Daddy walked out. Baby wiggled from head to toe to get out of Mommy's arms and into Daddy's. Daddy and baby waved to train as it pulled out and the cute little family walked hand and hand home. (at least in my story they were going home) It was just the sweetest moment...looked like a Hallmark commercial.
~
Orangutan
(well I had thought at first it was) at the Mayberry hardware store was waiting on an old gentleman in front of me. To say the man took a looooong time to figure out what he needed and get his cash out of his pocket etc. would be an understatement. Orangutan looked at me and kinda made a face. I thought well I am not in a hurry, so don't be making faces at me. He proceeded to help this nice old man with such respect and patience that I almost got choked up. (
Aunt Flo
is in town I am not THAT much of a sap) It was nice to see that kid act, well not like an orangutan.
~I was open minded about some people this week that I may have not been before. To my surprise sometimes if you go into a situation with an open mind you can be pleasantly surprised. Imagine that! Who knew?
~I was again put in the company of women, this time no kids, wine, and Summer Beer! (yum-o) on Jenn's porch. Easy conversation, some laughs (who knew someone actually had a poster of Adam Rich in their bedroom...the things you learn over wine)with old and just met friends. Nice.
Wishing you a weekend of "nice".
Doing the blog hop parade again from Smart and Trendy Moms
Forward march!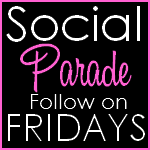 Recipes

Labels
Sunday Grateful
(119)
parenting
(39)
recipe
(37)
Friday Farrago
(30)
kids
(14)
pet peeves
(11)
friends
(8)
random thoughts
(8)
black friday II
(7)
Guest blogger
(6)
gardening
(5)
Grumblings
(4)
order
(4)
organizing
(4)
cleaning
(3)
decorating
(3)
family fun
(3)
getting older
(3)
25 questions
(2)
diet
(2)
dilemmas
(2)

Feed: